Russian River Valley
PINOT ON THE RIVER™
A day of Pinot Noir on Old Courthouse Square -Santa Rosa

welcome!
PINOT ON THE RIVER MOVES TO SANTA ROSA
After more than 15 years of pouring limited production West Coast Pinot Noirs in Healdsburg, the annual Pinot on the River festival is relocating to Old Courthouse Square in Santa Rosa, in central Sonoma County. Enjoy some of the best Pinot Noirs that California has to offer as more than 40 small-production artisanal wineries join with guest artisan food vendors from 11 a.m. to 3 p.m. on Saturday, Oct. 5, 2019 to celebrate all things Pinot Noir. Meet the winemakers and other Pinot-loving consumers. Proceeds benefit Sonoma County Pride.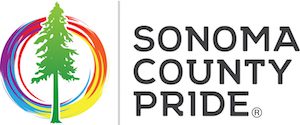 Pinot On The River™ is a benefit for Sonoma County LGBT Pride, which is dedicated to
enhancing the lives and well-being of our Lesbian, Gay, Bisexual, Transgender, Queer,
Intersex (LGBTQI) community and allies throughout Sonoma County. They promote
equality for all through education and activism, while serving as a liaison with
government, businesses and other organizations on behalf of our community. They
recognize and celebrate the history, achievements and contributions of the LGBTQI
community of Sonoma County.
Event Sponsors
Bacchus Level
Vintner Level
Sommelier Level
Grand Cru Level